My first iPhone App has been approved by Apple and is now available in the iTunes App Store. I created it to experiment with the built-in accelerometer and to see if an application like that would be feasable, i.e. if the data available is sufficient to simulate such a display.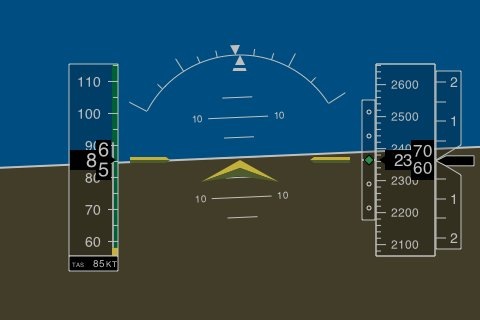 The current version 1.0 is very basic, but I am very interested to hear ideas and comments. If there is enough interest I have a couple of additional features that might be cool to implement as well: heading, speed, altitude and rate-of-climb are curently mocked up, but could easily be coming from the built-in GPS.
What do you use it for? Teaching? Imagining that you are flying? Plane fun? Let me know!
Half of the fun of creating an app for the App Store is having to write a description and store artwork. My problem for this app was that all my artwork is drawn by the iPhone and therefore only 320×460. But the main icon artwork needs to be 512×512 because iTunes uses it to automatically generate larger icons for the apps. Simply scaling a smaller image is a no-no. So I had to take a photo of a real Garmin 1000 cockpit and cut out the main flight display like I was using to model the layout of my app's display. Below you see the text I whipped up to promote the app.

Pilots use their instruments to fly through bad weather. Modern pilots use an LCD "glass cockpit" like the famous G1000. Now you can have your own glass cockpit in your pocket ready for those times when you too find it hard to keep straight and level.
Amaze your pilot friends with your pocket glass cockpit or use it for attitude control if all you can see is the iPhone before your eyes! iFR (iPhone Flight Rating) not required.
"Cockpit" uses the built-in accelerometer to draw an artificial horizon, airspeed indicator, rate of climb indicator and an altitude indicator. Currently all details except for data from the accelerometer are mocked up, but if enough people download this app I will also add live GPS data to calculate it. Suggestions welcome.
Note: this app is meant for entertainment purposes only and should not actually be used in moving vehicles.