My fiancee loves her new tool to track her monthly menstruation cycle which is now available in the app store. It has a uncluttered interface that is simple to use and quick to understand … just right for the time of the month when you don't really have the nerves to dig through a counterintuitive interface. 😉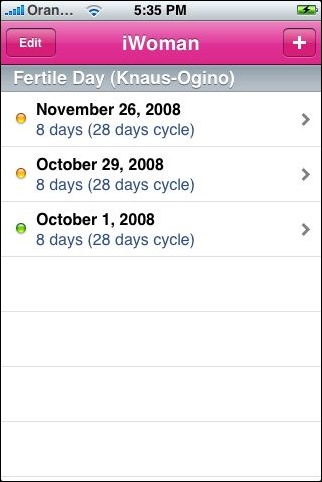 Version 1.1 brings a new information bar that also tells you when you are more likely to get pregnant, useful if you are trying to conceive or also if you are trying not to.

iWoman allows every woman to take charge of her menstrual cycle. The intuitive interface allows to quickly add information about a new cycle and will estimate number of days and cycle start date from previously entered dates. You can also adjust the number of days and specifically track strength and other symptoms per day.
The best feature of iWoman is that you can easily estimate future dates when you might be indisposed and make certain that your cycle does not interfere with your next vacation.
Keeping track of your female cycle with our handy tool puts you in charge!